In this post, we want to show you the main parts of the web-based interface of the AlbaCombi.
First of all, you need to power your AlbaCombi. You can do this via your Powered NMEA2000 Network with a can bus or simply connect inputs 17 (Positive) and 18 (Negative) to 12 Volts Power supply. Once
Second, connect the ethernet cable to your computer and check you have your IP configuration right to detect the albacombi. Here you have a video about how to configure correctly:
Once connected you will navigate through the following pages:
GENERAL
On this screen you can see the Firmware Version. Check if you have the latest one
Also, you will see the serial number of your product. And the IP address of the AlbaCombi. If you connect two, three or more AlbaCombis, in this page you will assign the different IP address for each AlbaCombi.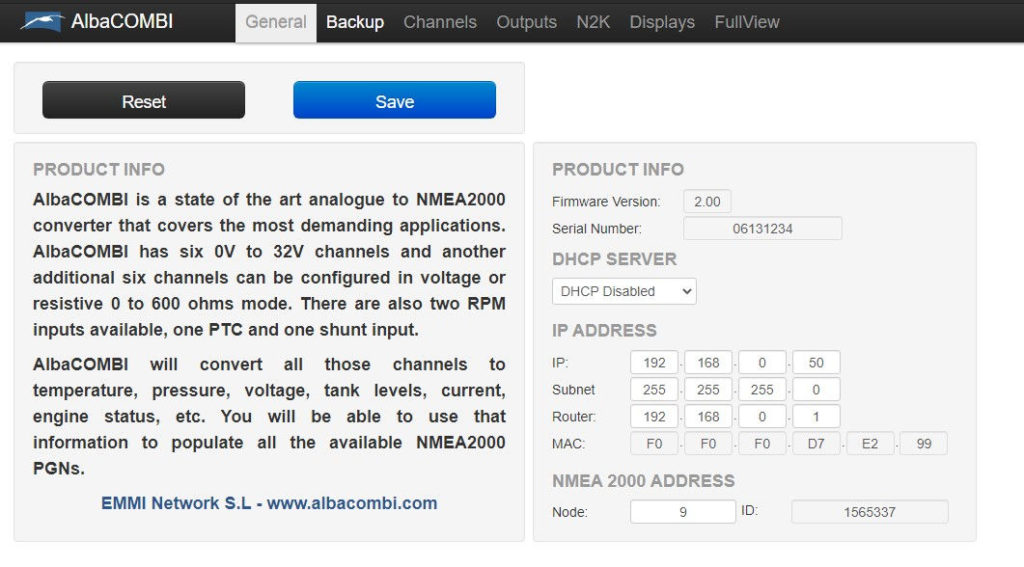 BACKUP
You can save all your configuration in one file and restore it at any moment you need or upload it to another AlbaCombi unit. This means you are not going to waste time again for a similar configuration. If you power off the AlbaCombi or leave the AlbaCombi disconnected for some months, you don't lose your configuration never because AlbaCombi has non-volatile memory.
CHANNELS
In this page you will select the input you want to calibrate and you have connected the signal to the AlbaCombi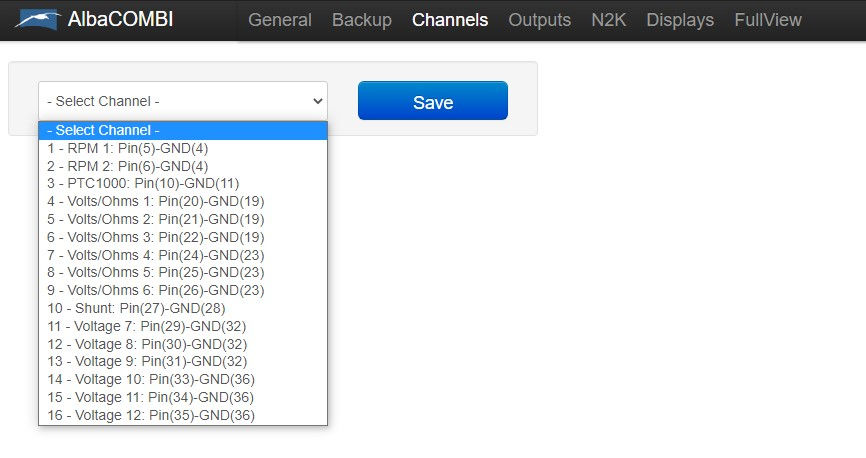 Once selected, you will see the following pages:
RPM page, you can calibrate two signals. You can create your own calibration curve or select predefined Sensor ( 4000RPM and 6000RPM)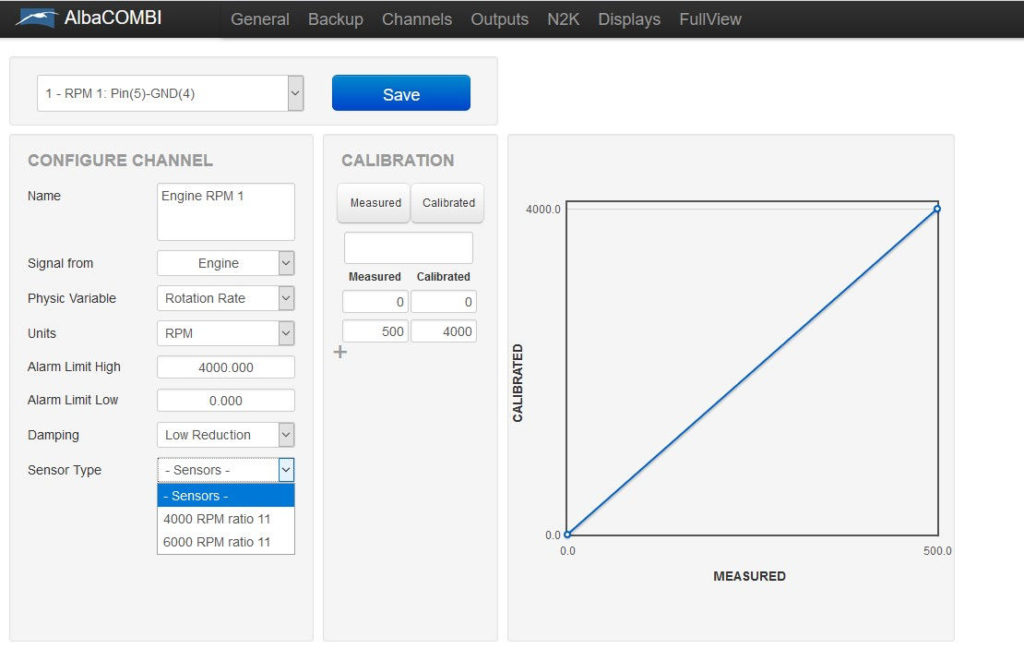 Temperature Sensor PTC1000 calibration page: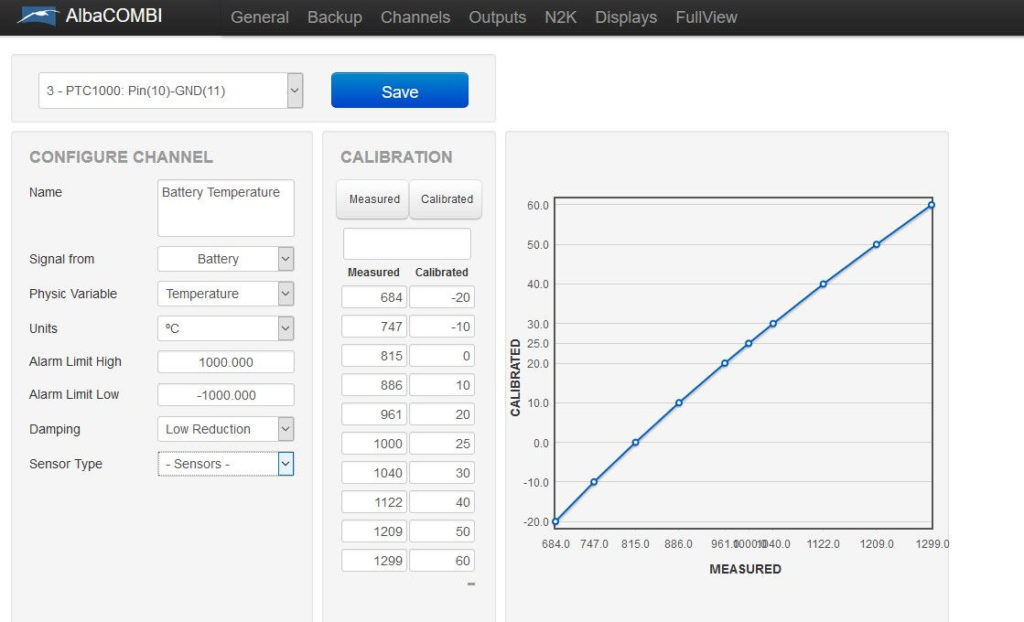 Resistive or Voltage Sensors Page. You can calibrate up to 12 Voltage Sensors or 6 Resistive and 6 Voltage. Learn how to change to Resistive or Voltage mode in the following guide.
Like all the rest of the inputs, you can calibrate by yourself if the sensor is not on the list and create your own calibration curve. This means you can calibrate and measure almost any sensor you want (0-32 Volts and 0-600 Ohms) or if you have some of the standard VDO or Faria Gauges/Sensors you can use the predefined list and select one of them.
VDO Pressure Gauge and Faria Pressure Gauges: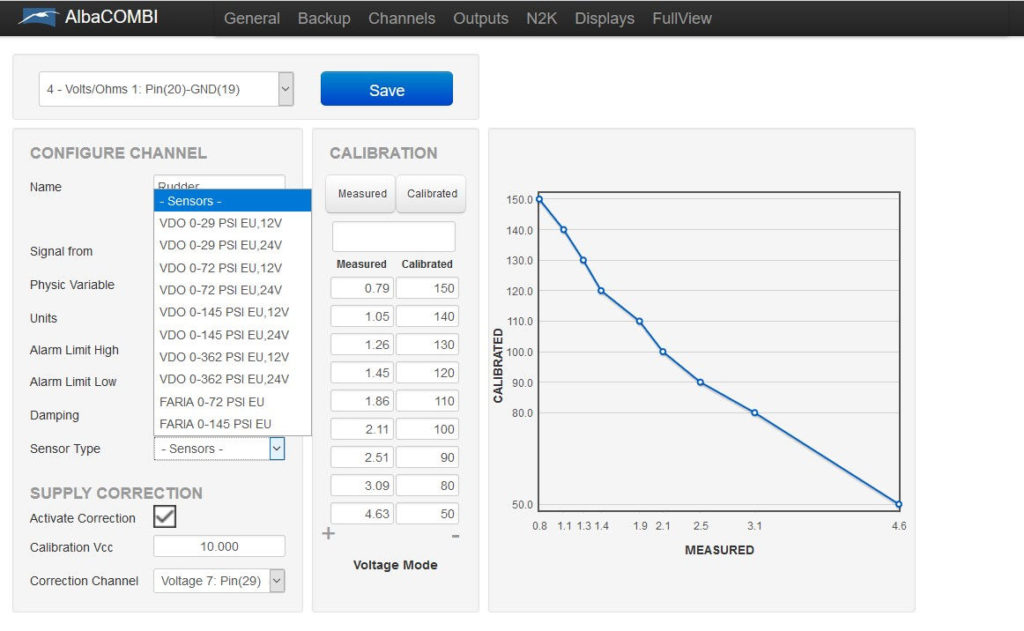 VDO Temperature Gauges and Faria Temperature Gauges: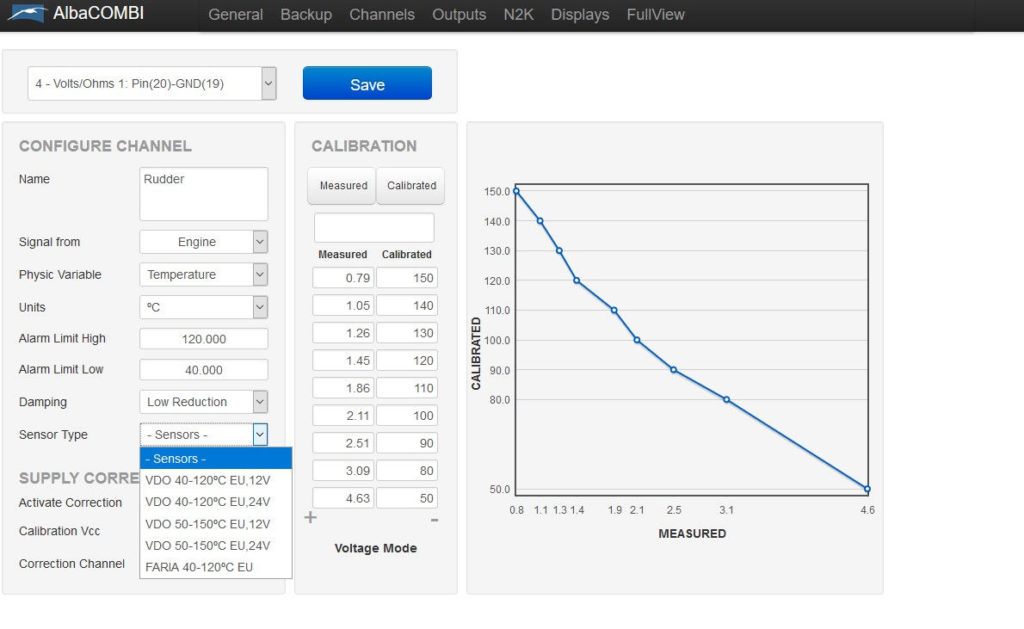 Transmission Gauges: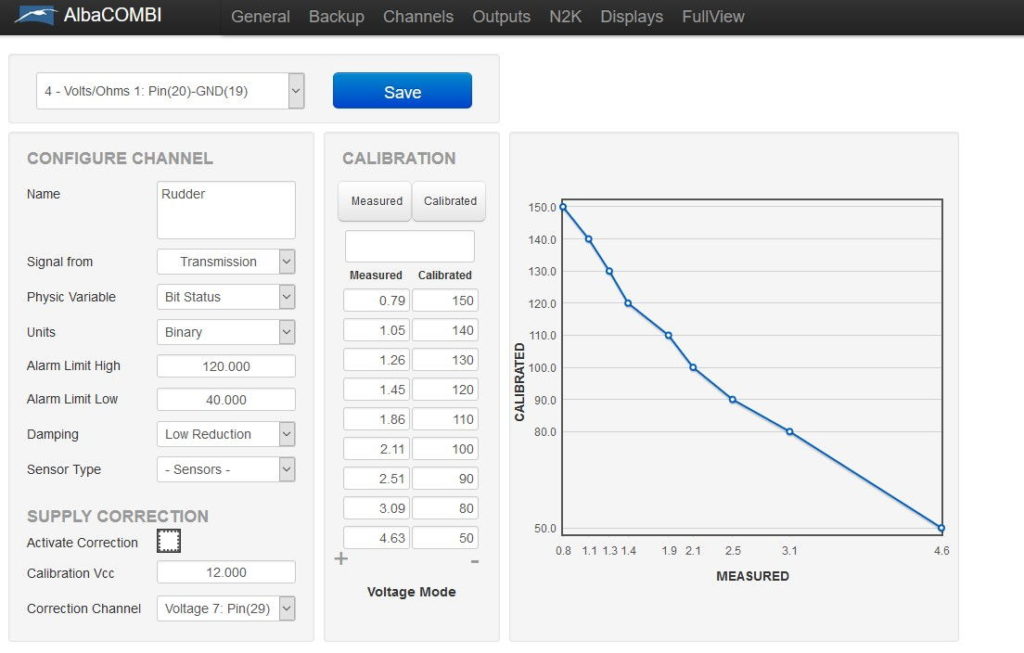 N2K
Once you have your sensors calibrated, it's time to send the signal to your plotter or MFD via N2K network.
Select your PGN, configure and save. You will see the data in your plotter. (Remember to add in your plotter the data panel appropiate)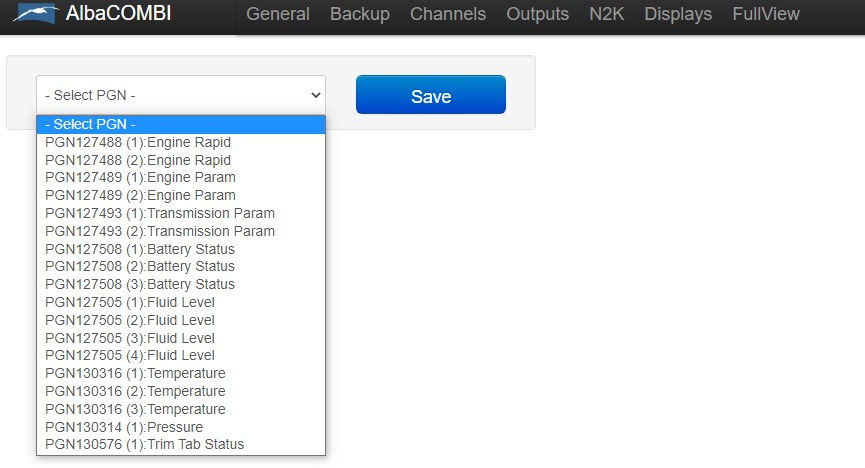 DISPLAYS
In this page you can create up to 20 displays to watch in your laptop, tablet or smartphone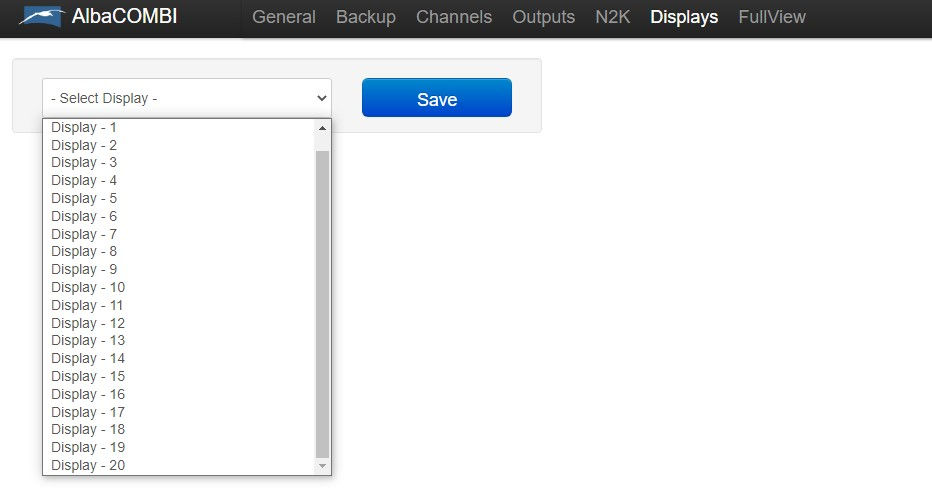 FULLVIEW
Once you have created the displays you can view in the page Fullview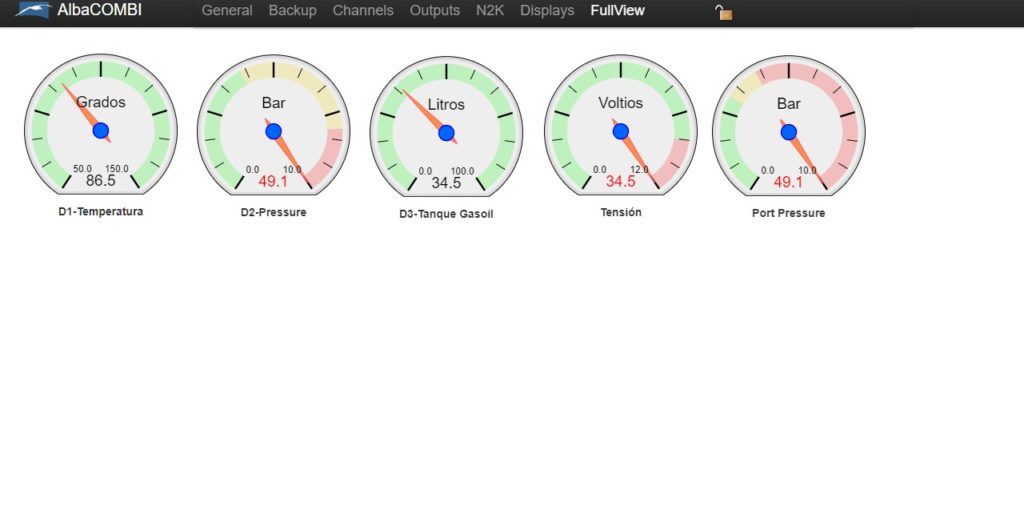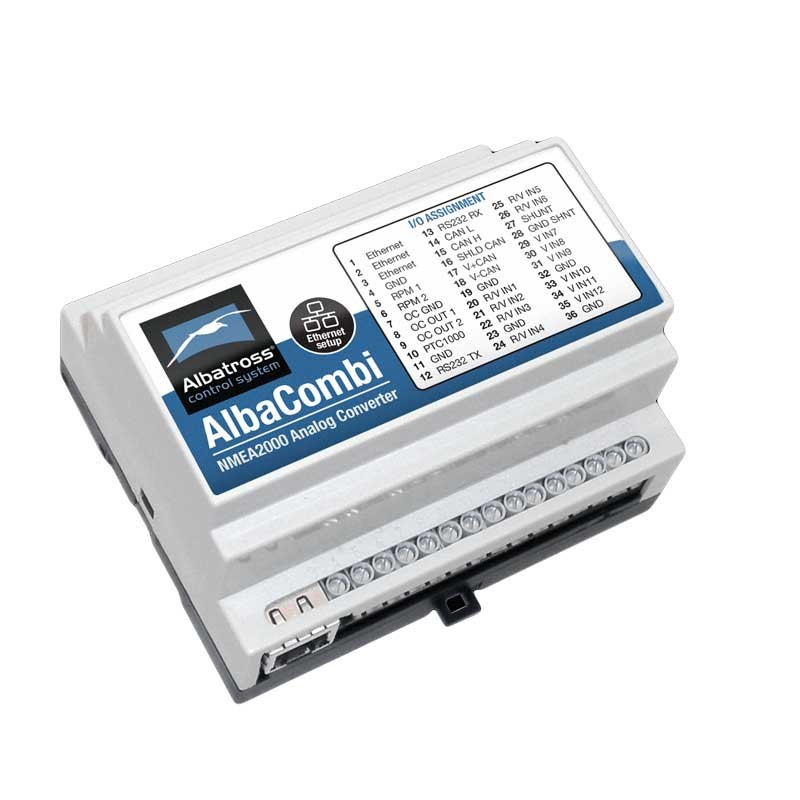 AlbaCombi
The Albacombi is Certified NMEA2000 device which converts Analog Signals to NMEA2000 from all over the boat.
Versatile: You can use it to get engine data, tank levels, generic pressure, battery levels and temperature.
Monitoring: Alba-Combi has an Ethernet port that will allow web-based calibration and upgrades. Just connect your laptop to the Alba-Combi via Ethernet and you will get to the calibration and testing page. No special interfaces or tools required.
The Alba-Combi has an embedded monitoring web server that will allow you to create a full monitoring Dashboard with analogue or digital gauges to be displayed on PC, Mac, iOS or Android devices.