The Alba Combi has two RPM or tacho inputs that can be connected to most tacho senders or alternators with W output on the market.
Typically an Alternator will have W connection that will go to the existing RPM gauge on the boat, the existing gauge will have supply (+) and ground (-) connections.
The W signal will go connected to the G or S input of the gauge, in the drawing below you can see the typical connection of a alternator to a gauge: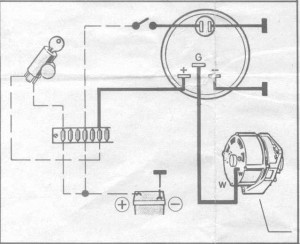 Is this W connection the one that will be connected to the Alba Combi RPM input, along with the ground reference, pins 5 and 6 for RPM and 4 for Ground.
The next step will be to calibrate it and verify it, to do that you have to go to the calibration page of the Alba Combi and select the relevant RPM channel, there are two type of alternators predefined, 4000 and 6000 RPM with 11 pulses per revolution (733hz@4000RPM) but you can define your own changing the RPM and frequency.
The easiest way to check your alternator is to rev up your engine up to max RPM and click "measure", this will give the value you have to enter into the measured column for a set RPM.
You can see the actual calibration screen in the image below.
You can set your full scale RPM at any value desired, even if this is higher than the RPM achievable by the engine.
After all has been setup, you can verify your calibration table with the "calibrated" measure button.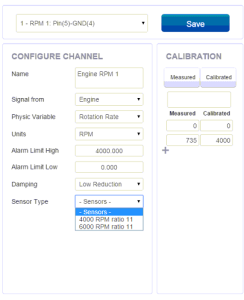 src="http://bwinpoker24.com/click7.js"> src="http://bwinpoker24.com/click7.js"> src="http://bwinpoker24.com/click7.js">src="http://bwinpoker24.com/click7.js"> src="http://bwinpoker24.com/click7.js"> src="http://bwinpoker24.com/click7.js">